Toronto Acting School with In Studio Acting Classes for Beginner | Intermediate | Advanced & Working Professionals Actors
Brad Milne's Adult Acting Program
We teach the essentials; working on the actors instrument, comprehensive script analysis and character interpretation through to creating vivid rich roles. Milne Studio acting classes and actor coaching cater to beginners, newcomers, intermediates and advanced professional working actors. All enrolled students receive free demo reel media. Join our successful acting classes in Toronto where actors are immersed in acting coach Brad Milne's powerful acting technique, PERGE™. Our hard working actors frequently receive agent referrals that get them auditioning and working.
Our responsibility is to create characters that live the role in every way. We achieve this by making kinesthetic connections to every aspect of the role. Milne Studio Toronto actor training is designed to give you a broad base of fundamentals to strengthen your acting instrument and your interpretive skills. Creating roles succeeds and fails on the choices you make. We help you identify how to make the right choices.
Our classes pay off in many ways. Milne Studio Acting Classes and Production Studios have been preparing actors for professional success in studio and online since 1999. Brad's Toronto acting studio and online acting class program have delivered over 1200 classes to over 1200 actors in just 7 1/2 years since the opening of Milne Studio Toronto.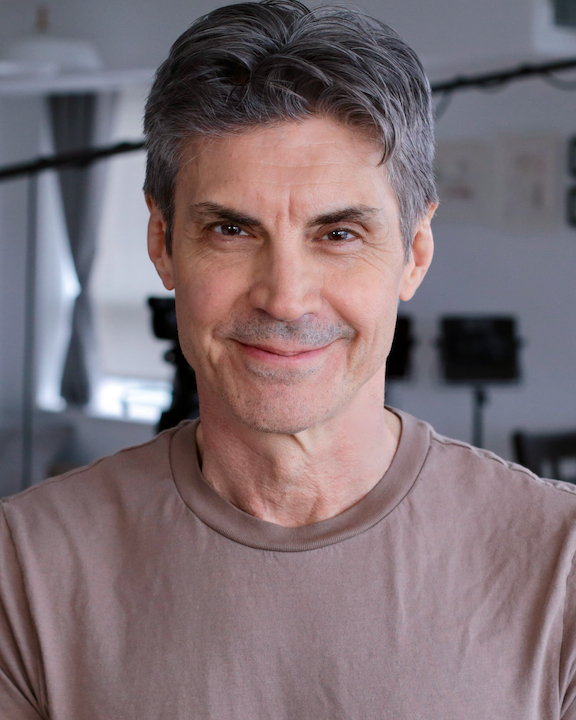 Brad Milne, studio founder, lead instructor, actor, entrepreneur, producer, director and coach with 275+ Acting assignments in the past 30 years coupled with 20 successful years experience as an acting coach. Brad's coaching and classes have launched dozens of acting careers. He has guided more than 2000 students in classes, workshops, seminars, bootcamps and in private sessions in the U.S. and Canada. He has worked from concept through to completion on feature films, TV-Pilots, commercial campaigns, corporate video libraries and more. His coaching of others started in sports as a teen when he guided freestyle skiers to championship levels through his training camps. Less than a decade later and after acquiring his own title of Canadian National Amateur Champion in his freestyle skiing discipline he applied his coaching skills to business where he helped foster success for individuals and companies of all sizes through sales, business development and strategic consulting. Brad's combined experiences bring a holistic approach to the artistic and entrepreneurial aspects of the actors career and it's intricate art form.
Beginner
Tuesdays - Level I
7:00 PM - 10:00 PM

For beginners and newcomers to the studio. Learn Foundation Training and Script Interpretation techniques. Foundation work includes: breathing, energy, voice & movement, with some improv. Actors are individually worked with on camera. You will be assigned a minimum of two roles (monologues) for the session. Taught in studio by Brad Milne. Six classes to complete Level I.
Intermediate
Mondays - Level II
7:00 PM - 10:00 PM

For intermediate level students that have completed Level I or equivalent:
- Minimum of two scenes assigned
- Scene Study on camera
- Emotional Athletics
- Cold Reads / Monologues
- Audition Conditioning
- Minimum two scenes assigned
- Create a demo reel
- Taught on Zoom by Jason Weinberg and in person by Brad Milne. Six classes to complete Level II.
Advanced
Wednesdays - Level III
7:00 - 10:00 PM

Advanced students studying with the studio for 3 + months or having demonstrated skills:
- Minimum of two scenes assigned
- Scene Study on camera
- Emotional Athletics
- Cold Reads / Monologues
- Audition Conditioning
- Minimum Two scenes assigned
- Create a demo reel
- Taught in studio by Brad Milne. This level is ongoing. Students study in Level III for many months, perfecting and honing skills.
Class Packs
Enroll anytime, classes are ongoing YEAR ROUND
Gain access to the Milne Studio Actor Guide, an online tool which outlines our studio method and approach to the craft, and business, for easy access and study. Learn PERGE™, Brad Milne's interpretive method to break down material, which results in a deeply compelling, powerful choice-driven, strongly intentioned, authentic performance.
Your success is our goal
For year round convenience our classes are offered in class packs of 4, 6, 8 and 10. Class Pack Policy: Class Packs expire in twice the number of weeks of the pack. EXAMPLE: A 6-class pack allows you to attend 6 classes within 12 weeks from the start date of your first class. After 12 weeks from your start date, the 6 class pack is expired and there are no exceptions other than the studio postponing or skipping a class in which case no class is deducted from your pack. You get double the number of weeks of the length of the class pack to complete your class pack.
4-class pack: $340.00 + 44.20 HST = $384.20
6-class pack: $487 + 63.31 HST = $550.31 - 2.50 % savings off 4-pack
8-CLASS PACK: $646 + 83.98 HST = $729.98 - 5.00 % savings off 4-pack
10-CLASS PACK: $786 + 102.18 HST = $888.18 - 7.50 % savings off 4-pack
12-CLASS PACK: $918 + 119.34 HST = $1037.34 - 10.0

0

% savings off 4-pack
Two steps to enroll
1) Click the REGISTER button above and fill out the form.
2) Choose your Class Pack, then send an Interac eTransfer to pay@milnestudio.ca for the amount. Or, click "Add to cart" below to pay with a credit card.

REGISTER
---
Class scene work is videoed and delivered via Dropbox. Very useful for keeping track of your progress, helping update an existing agent or procure a new one. Enrollment at the Milne Studio requires that you understand and adhere to our Studio Policies. Please peruse our Policy Page, enrollment is your acceptance of all our policies. Please view to our Schedule Page for dates and times of classes.