Welcome to Milne Acting Studio
Canada's Online Acting School | Toronto Acting Classes
Learn from our award winning faculty of highly successful acting instructors coming from every facet of the film, television and theatre world's whom bring you over 250-years of collective craft and career intelligence in Toronto, Canada's premiere online acting conservatory. 647-782-4888.
BACK BY POPULAR DEMAND!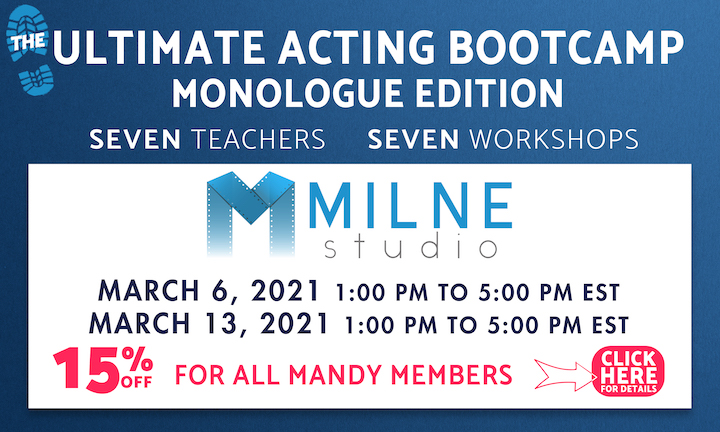 Acting Classes Toronto | Toronto Actors School

Immerse in Acting, Auditioning, Improvisation, Voice, Movement, Accents and Script Writing.
Milne Studio's Online Toronto Acting classes teach you how to create your best possible home acting studio, so you get the most out of your online training, can create your best audition self tapes, and start to shoot your own performances scenes, right at home. Our mission is to help you become 100% production self sufficient so that you can best capture and share your most compelling work.

Film Television & Theatre Training | In Studio & Online
Milne Studio's Virtual Acting School and In-Studio actor training integrates selected acting principles of Constantine Stanislavski, Lee Strasberg, Larry Moss, Michael Shurtleff, Uta Hagan, Stella Adler, Sanford Meisner, David Mamet and William H. Macy. Our acting training and foundation classes weave these masterful techniques into an empowering cutting edge approach towards cultivating and amplifying the actors craft. Brad Milne's acting classes and PERGE™ technique are at the core of Milne Studio training with more than 900 acting classes for over 750 actors in the past 6 years in Toronto.

Acting School Toronto with Online Acting Classes and In Studio Acting Classes in Toronto, Ontario, Canada.
Train in our Virtual or In Studio Professional Acting Program and Acting Classes in Toronto, Canada where actors study PERGE™, acting coach Brad Milne's powerful acting technique.

We specialize in diverse training for newcomer, beginner, intermediate and advanced professional working actors. Our Online and In-Studio Acting School in Toronto, Ontario, Canada caters to local, regional, national and international students.
Learn the process and essential tools of acting at our acting school where classes guide you through foundation exercises, rich character and role development, in depth scene study, auditioning, and working on-set. The acting program at Milne Studio also supports, guides and helps build your acting career. All this in a state of the art Online and In Studio Film/TV production environment.
43 Hocken Avenue, Front Entrance, Toronto, ON M6G 2K1 | 647-782-4888
---
contact us
We look forward to guiding, empowering and igniting your acting journey
Serving actors Online and in the GTA Greater Toronto Area
Including; Downtown and Midtown Toronto, North York, Etobicoke, Thornhill, Richmond Hill, Vaughan, Scarborough, Missisauga, Brampton, New Market, Aurora, Pickering and Hamilton. Just a 3 Minute walk from Bathurst & St. Clair Ave. Street parking is available on Hocken Avenue and nearby on Vaughan Road.
The acting school and our acting classes are housed in a brand new ultra modern home designed for our school, classes, training and production work. Milne Studio's state of the art technology integration and workflow allows us to record your acting class work and acting lessons while helping you create compelling professional actor demo reels of your work at no additional cost to you. We also provide use of our free self tape facility for all enrolled students.
Actor Headshots are a key part of the actors marketing tool kit. At Milne Studio we have an in-house actors headshot studio.
Milne Studio provides actor career counseling, actor on-camera acting training and actor private coaching. Our comprehensive acting curriculum includes: acting classes, acting workshops, acting seminars and acting bootcamps for adults and teens.
Actor Demo Reels
---
Actor Headshots
Milne Studio On Camera Acting Classes in Toronto, Actor Coaching and Production Studios have been preparing actors for professional success in studio and online since 1999.
Testimonials
Acting Classes in Toronto, Ontario, Canada
"I joined Brad's classes last month with a 4 class pack. But right after my first class, I upgraded it to a 8 class pack because I loved it so much! He is not only an amazing teacher but one of the best human beings I have met. He is considerate, flexible and a remarkable actor. I had zero acting experience when I joined his classes but he never made me feel like I was a beginner.
He creates a positive environment in each of his classes which not only makes you comfortable but builds your confidence in a way you had never felt before! He is one of a kind! I will definitely be joining back after my vacation! Also, he does summer draws for class packs and I just won a 6 pack class with him! I couldn't have been happier. If you want to learn the "act" in "acting", Milne studios is the place you would wanna go to." Tanvi Chandna, Toronto Actress
"Not only has Brad helped me to lay down an acting foundation and further develop my skills with his innovative techniques and array of experience, he has made it his mission to help me navigate through the industry. Brad and Alana go above and beyond the regular involvement of an acting school...they make it their goal to help you chase yours!" Dylan Moscovitch, Canadian Actor
"After studying in LA and Toronto I have FINALLY found a coach I can relate to!! Brads classes are simply amazing he has such a way of coaching that you just get it!!! I noticed how he looks at all his students differently and takes the best approach to help them further their career. If you are an actor either just starting or well advanced in your career I STRONGLY recommend taking one of his classes and seeing for yourself." Anthony Caputo, Toronto Actor
"So as a former Partner of major Bay Street Consulting Firms, I thought that I had seen all there was to see in business. Then I walked into the Milne Acting Studio. An outstanding blend of talent development, technical training of the acting art form, the exploration of the inner self to link character study and development, and the application of a business mindset to launch an acting career. Because let's face it - we don't just want to say we are actors, we want to be able to say we are "working actors".
Brad is able to connect all of these requirements into a business model like few businesses I have seen elsewhere. For the student this means learning the craft, getting to know yourself a little better, and establishing a business plan to get there. Expect to be pushed to reach your highest and becoming an actor in the process!" Omar Tucci, Toronto Actor
"Toronto Acting Coach, Brad Milne gets you, as an actor, to the core of a character in a flash and has given me the courage and confidence to venture into moulding my own interpretation of a character. This is acting coaching on an other level." ~ Bryan Ratushniak, Canadian Producer / Actor
---
Milne Studio Acting Classes in Toronto guide actors to create truthful believable characters in a film studio environment with multi-camera live editing.

---
Whether you're looking for an acting coach or classes, courses, workshops, seminars or bootcamps, you can find exactly what you're looking for and more at Milne Studio Toronto. Catering to adults and teens in the GTA Greater Toronto Area. Call 647-782-4888
contact us
---
---